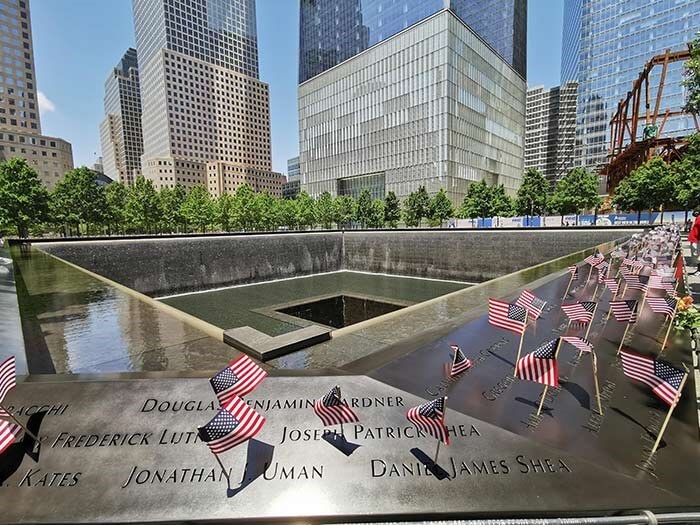 Remembering 9/11: Honoring Our Fallen Heroes and Our Country
Twenty years ago on September 11th, 2001, the United States and the world as a whole, was forever changed as a result of the terrorist attacks and their aftermath. The deadliest act of terrorism in history left nearly 3,000 Americans dead, over 25,000 injured, and an entire nation in mourning. The towers collapsed and for months after, first responders, friends, and family members frantically searched for their missing loved ones. Today, we remember this traumatic event. In doing so, I hope we can use this opportunity to set our differences aside and come together to honor those who passed, our first responders for their amazing effort on that fateful day, and all our current heroes in uniform that protect us daily.
Verify your mortgage eligibility (Aug 15th, 2022)
Here at Wilkes Mortgage Group, we are passionate about honoring and respecting our first responders and military for everything they do for us daily. We must remember this day and educate the new generation of Americans about its significance. We are proud to be Americans. Although she may have her flaws, America is a symbol of opportunity and freedom. Immigrants can come here and make a better life for themselves and people from all backgrounds and education levels have the opportunity to succeed. On a day like this, it's important to put political agendas aside and prioritize the mourning and remembrance of fallen American souls.
History has a way of being devastatingly poetic. As we approached the 20th anniversary of the 9/11 attacks, Americans experienced yet another devastating loss. On August 26, 2021, a terrorist attack struck just days ahead of the United States' planned full withdrawal from Afghanistan. The suicide bombing marked one of the deadliest days for American forces in the past decade of the 20-year war. At Hamid Karzai International Airport in Kabul, Afghanistan, 13 United States service members were killed. Most of these fallen heroes were too young, some not even alive at the time, to even remember the events of 9/11. Today, we want to honor these brave young American heroes. Say their names, get to know them, remember them in unity.
Marine Corps Lance Cpl. David L. Espinoza

Verify your mortgage eligibility (Aug 15th, 2022)
At 20 years old, this young hero hadn't even been born when this war started. Still, inspired by the prospect of helping others, Espinoza had always dreamed of being a Marine. He enlisted shortly after graduating from Lyndon B. Johnson High School in Laredo, Tex in 2019. He was from a predominantly Hispanic community in Rio Bravo, Texas, and embodied the values of America: grit, dedication, service, and valor.
Marine Corps Sgt. Nicole L. Gee

The 23-year-old from Sacramento, California demonstrated her love for her country and her career on her social media profiles. She graduated in 2016 from Oakmont High School. Her husband, fellow Marine Jarod Gee, is also a graduate of Oakmont. Gee joined the Marines in 2017 intending to become an air traffic controller, but a heartbeat irregularity had prevented her from doing so. Instead, she became a maintenance technician and was promoted to sergeant last month.
Verify your mortgage eligibility (Aug 15th, 2022)
Marine Corps Staff Sgt. Darin T. Hoover

Darin was 31 years old from Salt Lake City, Utah, and a 2008 graduate from Hillcrest High School. Upon discovering his passing, Utah Governor Spencer Cox stated, "Staff Sgt. Hoover served valiantly as a Marine and died serving his fellow countrymen as well as America's allies in Afghanistan. We honor his tremendous bravery and commitment to his country, even as we condemn the senseless violence that resulted in his death." He will be remembered with pride by his family and friends.
Army Staff Sgt. Ryan C. Knauss

Verify your mortgage eligibility (Aug 15th, 2022)
From Corryton, Tennessee this 23-year-old Marine knew joining the military was his calling since he was a child. He defended his country with immense pride. Knauss served in Afghanistan in 2017 with the 82nd Airborne Division as an infantryman. When the need to quickly evacuate civilians and diplomatic personnel from Kabul emerged, he deployed again. Knauss was married to his high school sweetheart and a member of the 9th Battalion, 8th Psychological Operations Group, after shifting to a specialized field that often involves interviewing people.
Marine Corps Cpl. Hunter Lopez

Lopez is the son of two Riverside County Sheriff's Department officers, Captain Herman Lopez and Deputy Alicia Lopez. He was 22 years old from Indio, California. Being a servicemember and protector ran in his blood. After his deployment, Lopez had plans to join in their footsteps as a sheriff's deputy.
Verify your mortgage eligibility (Aug 15th, 2022)
Marine Corps Lance Cpl. Rylee J. McCollum

McCollum was helping with evacuations and guarding a checkpoint when the attack at the airport happened. This was the 20-year old's first deployment. The Wyoming native had recently gotten married in February and was expecting his first child. Rylee had been a wrestler and always knew he was going to be a Marine.
Marine Corps Lance Cpl. Dylan R. Merola

Verify your mortgage eligibility (Aug 15th, 2022)
Dylan was 20 years old from Rancho Cucamonga, California. He graduated from Los Osos High School in 2019 and enlisted right after graduation. He was on his first overseas tour as a Marine and was just a few weeks shy of returning home when he was killed in Kabul. During the explosion, Merola's job was helping evacuate children.
Marine Corps Lance Cpl. Kareem M. Nikoui

20-year-old Kareem M. Nikoui from Norco, California was helping families and children evacuate at the time of the attack. Nikoui graduated from Norco High School in 2019, where he was a member of the JROTC program. He loved being a Marine, what it meant to be a part of the Marine Corps family, and being on duty. The city of Norco plans to put Nikoui's name on the "Lest We Forget Wall" at the George A. Ingalls Veterans Memorial Plaza.
Verify your mortgage eligibility (Aug 15th, 2022)
Marine Corps Sgt. Johanny Rosario Pichardo

Lawrence, Massachusetts native Johanny Rosario Pichardo was assigned to the 5th Marine Expeditionary Brigade, Naval Support Activity Bahrain, according to the Department of Defense. The 25-year-old was of Dominican origin and proud to represent the United States as a Marine.
Marine Corps Cpl. Humberto A. Sanchez

Verify your mortgage eligibility (Aug 15th, 2022)
Everyone that knew Humberto Sanchez said he was a light and loved making people laugh. The young 22-year-old from Logansport, Indiana graduated high school in 2017 and was a promising athlete and student. He will be remembered for his kind soul, service, and sacrifice.
Marine Corps Lance Cpl. Jared M. Schmitz

Schmitz was on his first deployment, having been sent from Jordan to help with evacuation efforts. The 20-year-old from St. Charles, Missouri wanted to be a Marine since his sophomore year of high school. He was laser-focused on learning everything he could about the Marines and joined at the age of 17. He leaves behind family and friends that are proud to call him a true hero.
Verify your mortgage eligibility (Aug 15th, 2022)
Navy Hospital Corpsman Maxton W. Soviak

22-year-old northern Ohio native Maxton Soviak planned to make a career out of his Navy service. He graduated in 2017 from Edison High School in Berlin Heights, Ohio where his close
friends say he was a good student who was active in sports and other activities throughout his school career. He was a talented wrestler and well respected by everyone who knew him. Max leaves behind 12 brothers and sisters.
Verify your mortgage eligibility (Aug 15th, 2022)
Marine Corps Cpl. Daegan W. Page

Page served in the 2nd Battalion, 1st Marine Regiment based at Camp Pendleton, California. He joined the Marines after graduating from Millard South High School in Omaha. He grew up in Nebraska and Iowa. The 23-year-old was often described as having a "tough outer shell and a giant heart." After finishing his enlistment, Daegan planned to come home and go to a local trade school, possibly to become a lineman.
September 11, 2001, began as an ordinary, late-summer day. This seemingly routine day was soon transformed into the most devastating day in American history when 19 terrorists boarded and hijacked four commercial airplanes. Nearly 3,000 people were killed when the hijacked planes crashed into the World Trade Center in New York City, the Pentagon near Washington, DC, and when United Airlines Flight 93 crashed in the Pennsylvania countryside outside of Somerset County, PA. Twenty years later we are still feeling the effects of its aftermath.
Tomorrow, we mourn those 3,000 fallen Americans and 13 more heroes. 13 heroes that made the ultimate sacrifice at the end of this twenty-year war. After 9/11, the one beautiful thing that did happen was that we all came together, as Americans, with patriotic pride in where we came from. We need to do this again. These 13 lives represent the ultimate sacrifice. It is hope and prayer that we can all take a moment this weekend to thank these young heroes that so greatly believed in our country and to be grateful for the opportunity to live in such a great nation.
Show me today's rates (Aug 15th, 2022)