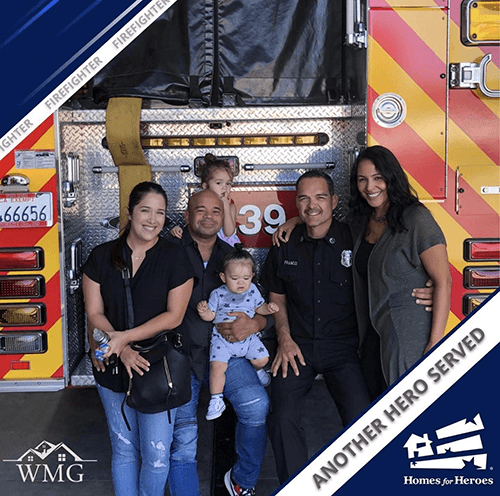 Celebrating the Heroes Of Our Nation With Homes For Heroes Inc.
This past year has been tough for all of us. From COVID 19 to social issues across the country, to financial hardships, it's safe to say that humanity has been tested in 2020. Our frontline workers have been fighting to hold up the fort to preserve the safety and beauty of our communities daily. Our law enforcement, firefighters, EMS, teachers, military, and healthcare professional's display of heroism is deserving of recognition and appreciation.
Even before the madness of 2020, our front-line workers have always been the glue that holds our communities together. For over 7 years, Wilkes Mortgage Group has been committed to making our communities a better place. We are a proud partner of Homes for Heroes Inc., a nonprofit that focuses on providing easy ways for the heroes of our nation to save on homes and everyday home-related purchases.
Founded shortly after 9/11 in 2002, Homes for Heroes, Inc. gives back to the heroes of our communities including law enforcement, firefighters, EMS, teachers, military, and healthcare professionals by providing a smooth and affordable home purchase process. As a way to say thank you, we've support Homes for Heroes' mission to provide extraordinary savings to heroes who provide extraordinary services to our nation and its communities every day.
What is a hero?
We all have a different definition of a "hero." As a young child, you may idolize a comic book character with superpowers As you enter your teenage years you start idolizing athletes and public figures, then as you enter adulthood you praise doctors and surgeons for their life-saving capabilities. A hero is someone who trades their time to serve others. Someone who dedicates their work to cater to the needs of strangers without expecting much praise. These are the people who keep our communities and nations safe and evolving. Law enforcement, firefighters, EMS, teachers, military, and healthcare professions are always there when we need them. We may be grateful to them for the role they play in our lives at a given time, but we then continue without giving long-term appreciation to these individuals.
The Mission
Homes for Heroes, Inc. noticed this lack of appreciation for our front liners and wanted to give back in an impactful way, through dollars and cents. The home buying process, whether it's buying, selling, or refinancing a home, can be a daunting and expensive task. From closing costs to fighting to find good mortgage rates, to endless paperwork, it can be difficult to manage on top of a demanding career dedicated to serving others. Homes for Heroes, Inc. provides significant savings during the real estate process, including the financing, finding a broker, negotiations, closing costs, and paperwork. In doing so, the Homes for Heroes initiative has been able to help 43,000 individuals save over $75 million on real estate transactions. Since its inception nearly twenty years ago in Minneapolis, MN, Homes for Heroes has come a long way. With more than 2400 affiliated agents and mortgage specialists, it is now the largest nationwide network in the country.
The Homes for Heroes mission perfectly aligns with ours at Wilkes Mortgage Group. Our clients are family and we want to put families in homes. As proud mortgage brokers for Homes for Heroes in Los Angeles, CA, and the surrounding areas, we have been able to significantly give back to our first responders over the last seven years This community-driven project helps front liners by paying for their appraisal and inspection, giving them concise financial advice, and breaking down the home buying process. We always wanted to make sure the front-line workers are appreciated and rewarded for all they do, and this desire has never been more pertinent, especially after this very difficult year.

Firefighters and EMTs do so much more than just fight fires. From natural disasters, rescues, health emergencies, and major accidents, they always have our back. Every single day we expect and rely on the immediate services of 911 operators, firefighters, paramedics, and EMTs in our times of crisis. The least we can do is give back to them and their families when they are looking for a place to call home.
Police Officers protect and serve our communities daily. Their protective services have been put into question this past year, many of them facing heavy ridicule and unappreciation. While we mourn the loss of lives and condemn violence dealt by specific police officers, we still must continue to support and uplift the majority of others who have dedicated their lives to serving and protecting. At Homes For Heroes and at Wilkes Mortgage Group, we stand behind these brave men and women. After facing the threats, pressures, and challenges in our communities every day, they deserve a place to call home and a seamless process to get them to their homeownership goals.
Our nation's military protects our freedom with courage, strength, and perseverance. The men and women in our Army, Navy, Air Force, Marine Corps, and Coast Guard deserve our service in return for theirs. Many veterans struggle when they return to civilian life and find themselves struggling financially and emotionally. Homes for Heroes Inc. and the Homes for Heroes Foundation are determined to do their part to ensure rightful treatment and deserved praise for our nation's protectors.
To our healthcare professionals, we see you. This year has been hard especially on our healthcare workers, working 36-hour shifts, caring for COVID patients, covered from head to toe in protective gear, providing emotional support, and serving without complaint. Just as we relied on them during a global health emergency, they deserve to rely on us to help them find a place to come home to after a stressful shift. At Wilkes Mortgage Group, we want to give back financially and emotionally to our healthcare workers by making the home purchase or selling process seamless and affordable.
Our nation's teachers have given us more than we deserve over this past year. They have been forced to adapt to a completely alien way of educating. Through it all, they have stayed strong and put our children and their education first. They give more than we deserve to our communities and don't receive the deserved recognition. We are passionate about giving back to our educators by helping them find their dream home.
The Homes For Heroes Foundation:
Here at Wilkes Mortgage Group are proud to partner with an organization that provides heroes with more savings than any other national program. Homes for Heroes has established a circle of giving, allowing heroes to give back to other heroes in their communities. Every time a hero sells or buys a home using Homes for Heroes, they also help other heroes in need. Homes for Heroes makes this possible by donating a portion of its proceeds to the Homes for Heroes Foundation.

The Home for Heroes Foundation is an extension of the Homes for Heroes program. This foundation was developed as a response to the growing number of military veterans and first responders facing crisis and homelessness. They help heroes in dire need as it pertains to housing or emergency financial assistance. The circle of giving strengthens American communities by putting more money into the hands of our heroes, benefiting community programs, organizations, and businesses.
Are You a Hero? Here's How to Get Started:
If you are a police officer, firefighter, EMS worker, teacher, military, or healthcare professional, we are here to help you find a home.
Fill out your information and what services you are looking for at Hero Rewards
You will then be connected with your local affiliated realtor, lender, and other related services needed in the home buying process. These affiliates have all committed to reducing their fees to help you achieve your homeownership dreams.
Enjoy the benefits of no hidden fees, no extra paperwork, and no worries about the "fine print." These affiliates will guide you through the home buying or selling process as seamlessly as possible. You deserve to be relieved of some stress and that extra money saved could help you with several other expenses for your new home.
Your participation also ensures further support for your fellow heroes in need through the Homes for Heroes circle of giving.
At Wilkes Mortgage Group, we care, we never forgot where we came from. Our vulnerabilities and struggles in the past have helped us help people now. We saw a lack of appreciation for our frontline workers and we wanted to change that by giving back to the community. Over the years we have built amazing relationships with our hero clients and we hope to continue doing so.
We want to say a big THANK YOU to those that sacrifice so much daily to make our communities a better place.
If you would like to donate to the Homes for Heroes Foundation, visit Homes for Heroes Foundation