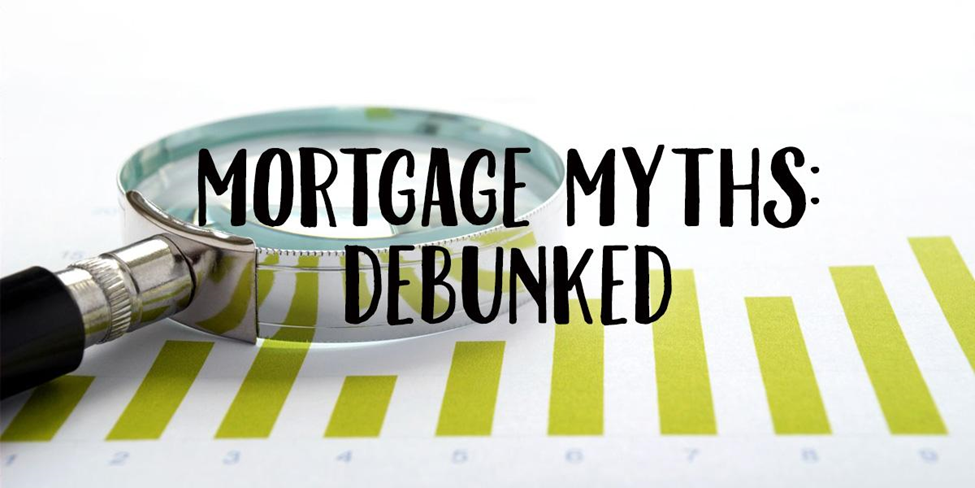 Busting 5 Major Mortgage Myths
Becoming a homeowner can be exciting and scary at the same time. As you embark on this new adventure, you'll want to do your due diligence and research as much as possible. While the internet can be extremely helpful, it can also become a black hole of information and you shouldn't believe everything you hear. We've all heard the rumors and stories about what you "should or shouldn't do" when it comes to buying a home. It's important to not let mortgage myths intimidate you. At Wilkes Mortgage Group, we value honesty and integrity in all business transactions. Today, we are taking it one step further and debunking the top 5 mortgage myths we've heard throughout our years in business.
Myth #1: You should always put down at least 20%.
For some reason, everyone thinks 20% is the magical set number you need for a down payment. This is one of the biggest misconceptions when it comes to buying a home. Is 20% a good number? Yes, in many cases, the more you can put down, the better, but it's important to also be realistic about what a majority of home buyers can afford. There was a time when putting 20% down was expected when buying a home. Thankfully, these days are far gone and in today's market, most loans require less than 6% down. In fact, some only require as little as 3.5% down and, if you qualify, loan programs through the Veterans Administration (VA) often don't require any money down at all.
Qualified borrowers have endless options today and can secure home financing through many different programs with minimal to no down payment. Even with rising housing prices, in many ways, becoming a homeowner has become even more accessible in recent years.
Myth #2: You need a high credit score.
While having good credit is always a plus, it doesn't mean you need high credit to become a homeowner. Your credit score doesn't have to be perfect to find a mortgage that helps you meet your homeownership goals. Yes, credit history is one of the factors that help determine whether a borrower is approved for a loan and also impacts the interest rate a borrower is offered. However, today there are plenty of mortgage programs available to borrowers with lower credit scores. For example, loans backed by the Federal Housing Administration (FHA) only require a score of 580 for approval. Furthermore, there are options like finding a co-signer or agreeing to make a larger down payment that can help reassure your lender and secure a mortgage!
Conclusively, even if you have a few credit bumps and bruises, if you earn a steady income and pay your bills on time, it may still be possible to qualify for a mortgage.
Myth #3: A 30-year fixed-rate loan is best.
When people think of a traditional mortgage, a 30-year fixed-rate mortgage is usually what comes to mind. While one of the most common mortgages, it is not the only or the best option. Buying a home is an incredibly personal purchase, that's why we like to work with clients one-on-one to see what mortgage rate and term would be best for their individual needs and lifestyles.
Today, the average homebuyer lives in his or her home for around 7 years, which makes potential fluctuations in adjustable-rate mortgages a less important factor. Adjustable-rate mortgages (ARMs) are often given a bad reputation because the interest can fluctuate. However, what most people forget is that these types of loans have interest rate caps to limit how high the rate can go. When deciding whether an ARM is right for you, it depends on how long you plan to stay in a home and realistically how long you think it'll take you to pay off your home.
Essentially, there is no one-size-fits-all solution to a mortgage. Each lender, mortgage, and homebuyer is different, which is why it's important to read the fine print and understand all of the terms before deciding which type of loan you should go with. Speak with your mortgage advisor to consider your loan options.
Myth #4: Pre-qualified and pre-approved are the same thing.
These two terms may sound the same, but there is a world of difference between them. Most homebuyers often use them interchangeably which leads to misconceptions when they start the mortgage process. You can get pre-qualified in minutes just by answering a few questions about your financial situation. However, the pre-approval process is much more in-depth. During the pre-approval process, your financial history is reviewed by a lender before a decision is made. Then once approved, you'll get an idea of a maximum loan amount based on how much the bank is willing to loan you.
Getting prequalified will help you get an idea of what you can afford. However, a preapproval, on the other hand, is much more important than just being pre-qualified because sellers tend to consider it the more accurate representation of your ability to buy the home.
Myth #5: Renting is cheaper than buying.
One of the biggest myths around buying a home, in general, is that many potential buyers believe they can't afford to own a home. In turn, they think that renting is the cheaper option. While renting can offer flexibility, when it comes to affordability, buying is almost always the better financial option. If you plan on moving frequently, renting may still be the best option for you, but if you plan on staying in your home for a longer period of time, you will likely save money over time by buying. First of all, when you own a home, you build wealth and equity. Secondly, it's almost always less expensive to pay a mortgage than to rent a comparable home. If you can afford to pay monthly rent, you may be able to afford to make a monthly mortgage payment. To weigh out your options, talk to a qualified mortgage lender to find out how much mortgage you can afford. You'll often find that the monthly mortgage will be less than your average rent price. You'll be able to get a quick, non-binding estimate, or a prequalification, just to get a rough idea of how much money you could potentially borrow. When it comes to being a homeowner, one of the most important things is to effectively plan your expenses and finances across maintenance and other homeowner responsibilities.
We are here to help!
Getting a mortgage for your first home can be a mystifying process, now add in all of the incorrect and outdated information out there, and it can truly be overwhelming. We've decided to set the record straight. Our team at Wilkes Mortgage Group wants you to feel truly confident when buying your home! If you are a first-time buyer, we can help walk you through the home buying process so that it feels simple and easy to understand. There are several loan options available for you and not every type of loan is right for every person. Let us help you find the best loan to fit your needs so that you can become the homeowner you were always meant to be. Visit https://app.acuityscheduling.com/ to schedule a consultation with our team today!